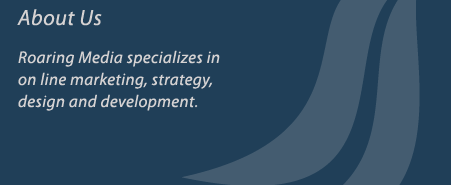 Roaring Media specializes in on line marketing, strategy, design and development. Working in five main market types including: smaller static html web sites, larger CMS (Content Management System) managed web sites, E-Commerce web sites, Real Estate web sites, Community Portal and custom online software development.
We suggest on line marketing solutions based on client needs and affordability. ROI studies have always been in the center of all our solutions. We have grown because our clients have grown.
Roaring Media is dedicated to developing on line solutions that seamlessly and easily serve our clients and their users needs. Developing web site that are easy to use, visually pleasing and successfully marketed.